Upgrade Sled-Pushes
Our unique design includes a sturdy, built-in bar that simulates sled pushing and pulling without needing the space to use a traditional sled. Multiple sled brake settings help coaches and trainers develop precise progression programs to maximize results.
Enhance Resistance Training
A parachute brake with multiple settings gives users the feel of real parachute resistance, perfect for resisted sprint drills without extra gear or access to a large track or field.
Augment Agility
Athletes can perform forward, lateral or reverse movements to maximize neuromuscular development and enhance agility. Full-length handrails offer stability as users switch rapidly from one phase of athletic movement to the next.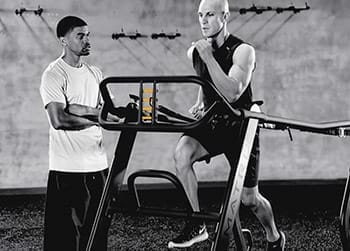 Elevate Sprinting
The 7-degree incline and natural ground reaction force are ideal for building strength and explosiveness in sprint training without changing the athlete's natural gait.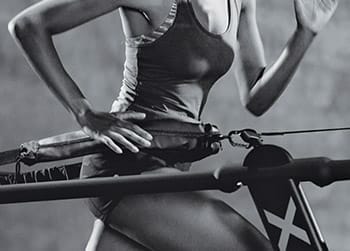 Optimize Form
The intuitive, effortlessly adjustable harness allows for a complete upper-body range of movement. Its unique design helps users refine form while coaches observe multiple sprint phases, adjust resistance and provide real-time feedback.
設計多樣性 + 強度
尋找我們 S-Drive Performance Trainer 背後的故事,瞭解其驚人多樣性、絕佳強度的原因。
➤
了解更多信息
其他應用
運動員般的表現
發現 S-Drive Performance Trainer無與倫比的多功能性,協助您的運動員在鍛鍊體能狀況時,同時提升他們的爆發力和耐力。 只有 S-Drive Performance Trainer 能提供透過自給供電的跑步機、載重雪橇、阻力降落傘以及束帶系統所獲得的訓練,並且僅佔用極小的空間。
復建與活躍老化
如果使用者訓練的目的是因為受傷進行復建,或者是年長使用者努力維持機能健康,S-Drive Performance Trainer 也可以提供明顯好處。 全圍式扶手可協助確保上下器材的輕鬆與安全,真正的零 mph 開始速度則適合所有健身程度的使用者使用,自給供電的設計則提供比傳統跑步機更自然的步態。
---
規格
FEATURES
Resistance Type
Independent Sled and Parachute brakes
User Harness
Connection free harness for walking or sprinting
Deck Type
Reversible silicone 2.5 cm / 1″ deck
Belt Type
Habasit, 2-ply commercial grade
Running Area
152 x 51 cm / 60″ x 22″
Step-on Height
17.8 cm / 7″
Incline Range
7
Speed Range
User defined
TECH SPECS
Power Requirements
Self-powered
Sled Brake Maximum Resistance
122.5 kg / 270-lb. sled on natural turf
Assembled Dimensions
76.8" x 34.8" x 59" / 195 x 88.3 x 150 cm (L x W x H)
Max User Weight
182 kg / 400 lbs.
Assembled Weight
122.5 kg / 270 lb
Shipping Weight
145.2 kg / 320 lbs.